How small business owners and non-designers can design professional creative assets for their business
Strong creative assets that are consistent with your brand Identity may do wonders while conveying your message and creating a lasting impression. Images, color palettes, and tone of speech, all can have a significant impact on how your brand develops. However, making your brand stand out with limited funds, time, and a team of talented designers can be tedious. Because of this, we've compiled a list of 5 effective and simple design tools for anyone who needs help producing stunning assets without having to spend hours navigating new software only to end up having to purchase a subscription in order to download the final asset.
 1. Canva 
Canva's plug-and-play templates, a wide range of readily available elements, and their ever-developing library of useful tools just make life easier for both designers and non-designers alike.
While the Canva pro subscription allows users to access trendy and sophisticated design options, the free version allows beginners to explore and create quality assets easily.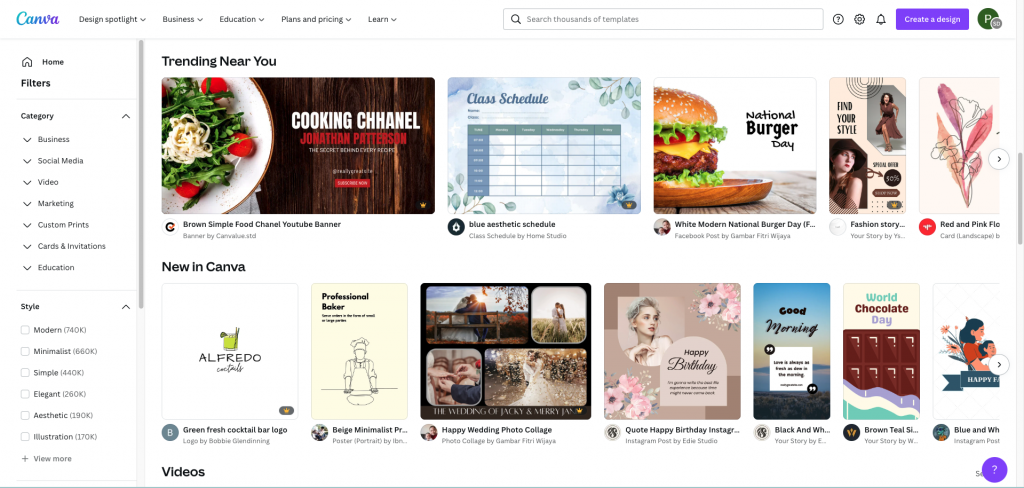 There are more than 50,000 creative design templates available. You may create cards, logos, and marketing materials with Canva's wide range of design options, which include editable templates. You can access millions of high-quality photos, expert designs, and videos by upgrading to Canva Pro.
Canva's Brand Kit, it lets you and your team easily store all your branded assets. It is a collection of branding elements so you can be sure to find all necessary aspects that will help you make sure that your design adheres to your brand's visual identity. Maintaining consistency in all the artwork is made much easier by having a Canva Brand Kit.
With Canva you can add members to your team and collaborate with them seamlessly. Here, you and your team members can access files, assign tasks, offer comments, and change the artwork all in real-time.
2. Stock Images
A big issue faced by business owners is using on-brand imagery which is also copyright/royalty free. Many of these platforms offer images that are either copyright-free or have creative commons public domain dedication licenses. This indicates that you are free to copy, change, distribute, and perform the work without seeking consent—even for profit. However, certain images might need to be credited. We urge you to conduct your own research to find out how you can use them.
Our top picks for free stock photographs :
Burst – Burst is a resource from Shopify that provides free stock photos for entrepreneurs. It is a great way to help your business look professional and stand out from the competition. Some photos are licensed under Creative Commons Zero while others fall under Shopify's own photo license.
Pexels – Pexels offers high-quality, free stock photos that are licensed under the Creative Commons Zero (CC0) license. All photos are well-labeled, searchable, and easy to find through their discover pages.
Unsplash – Unsplash has a large collection of high-resolution photos, which makes it a great source for stock images. The Unsplash team reviews new submissions and features the best photos on their homepage. All of the photos in this gallery are available for free under the Unsplash license.
Stock Snap – StockSnap adds hundreds of new images each day, and all of them are released under the Creative Commons public domain – no attribution is required.
KaboomPics – Kaboom Pics offers a wide variety of high-quality free photos, including abstracts, cityscapes, fashion shots, food pics, landscapes, and more. Photos can be used for commercial purposes but not redistributed or sold.
 3. Color Palette
A design no matter how aesthetic could end up looking average if the colors used don't sync well and other times, a hint of color could make a simple creative look stunning. Even pro designers spend hours finding the right shades and tones of colors to build a cohesive color palette. With tools like Coolors, Canva, Color space, Color Hunt , and Grabient (for amazing gradients) you can build color palettes in minutes.
Tips:
Try to use only 3 colours, 4 at max.
Bright colours hurt the eyes, try calm colours instead.
Use colours wisely and with attention.
Make sure there is enough contrast or use a contrast checker like www.colours.co/contrast-checker. Use consistent colours for your gradients in a single design.
4. Fonts
"Type choice is critical. A brand's typography is as important as any other element associated with an identity. In many cases, it's the vessel for that brand voice." – Josh Baron, the multimedia art director for brand management agency Sparxoo,
Gone are the days when the most important characteristic of the font was legibility. Different fonts evoke different feelings. The style of font you use can convey the heart of your message to your viewer. Don't be afraid to use multiple fonts or build font pairings to help convey the emotions behind your creative.
Download copyright free fonts from – Google fonts and build pairings with Google-Type by Femmebot, FontJoy, Mixfont , Typ.io.
5. Inspiration
In the vast world of design and creativity, finding the right inspiration that gives you design direction towards elements/fonts/colors could be used to give you the desired output could have you fall down the rabbit hole of endless research. Some platforms to easily and quickly find quality inspiration are – Pinterest, Dribble, Behance, Awwwards, Savee
There are a lot of online communities for DIY designers, and that trend has only continued in recent years. The sheer number of tasks you have to do can make it hard to determine which tools are the most efficient and practical to use. Our hope is that our analysis of these popular design tools for non-designers has helped you determine which ones are best suited for your needs.
Short on time or need help in producing effective visuals? Allow our team of designers to take on the time-consuming design process and you will receive high-quality designs that reflect your brand's identity.